How to make my setting or school a place that helps understanding, talking and communication
You haven't selected an area yet so you will only see core resources from across the UK. Select your local area from the home page
The resources here will help you reach the outcome: "I know how to create a learning environment that supports speech, language and communication for all."
Click the star icon
next to the items you want to save and view them in your pathway
TCT Communication Friendly Checklist
A child's learning environment can have a huge impact on their ability to develop speech, language and communication skills. This simple checklist has been designed for practitioners to be able to easily review their own learning environment to see how well it supports children. By completing the 15 easy to answer questions about the use of space, light and layout; noise levels; visual support; adult knowledge and interactions; routines, practitioners will be more informed about what they are doing well and what they could change to make their learning environment more supportive for communication.
Cost: Free

Balanced System for Schools and Settings
The Balanced System Scheme for Schools and Settings is a whole system approach to improving outcomes for children across the range of speech, language and communication needs for any setting that supports children. The framework enables a setting to understand existing need and provision for speech, language and communication and develop provision to address the gaps. The framework supports a setting to demonstrate impact of the support for speech, language and communication.
Cost: £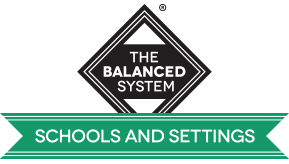 Language for Learning
Language for Learning provides training and resources to support everyone working with children and young people with speech, language and communication needs.
Developed in 2000 by a specialist teacher and a speech and language therapist, Language for Learning is a Worcestershire joint health and education non-profit making project managed by the NHS service.
Language for Learning provides training to the wider workforce in early years settings and schools, equipping practitioners to support children and young people effectively. A wide range of training courses are available from half day courses to three day intensive courses. Language for Learning also has a resource catalogue full of practical resources and ideas to support children in their setting.

Visit the website to find out more
Cost: Training commissioned by schools and settings
Using visual support
Parents play a key role in supporting their toddler's language and communication skills in everyday life. Children learn about the world through their experiences and interests particularly within their play. Kent Community Health NHS Foundation Trust provide information and opportunities for families learn more about developing their toddler's speech and language - this video introduces how to use visual support to help communication.
Cost: Free

Signs and Symbols
Widgit provides symbols that can be used to support communication making information, documents and resources to be more accessible and inclusive. The symbols can be used for a variety of purposes such as creating communication books to share information; visual timetables to support understanding of structure and routine; task boards to support independent learning; pictures to develop vocabulary and to support children learning English as an additional language.
This website has information to support your understanding of how to use symbols including training resources, events and links to a network of organisations around the UK who offer advice and support.
There is also information for parents and carers to help them understand how they can use symbols to support their child.
Cost: £
Stoke Speaks Out - Quiet We're Listening Posters
Posters to use in your setting to let everyone know that you're doing a listening activity and can't be interrupted. Promotes protecting listening time
Cost: Free