How I will know if a child or young person needs help with their understanding, talking and communication
You haven't selected an area yet so you will only see core resources from across the UK. Select your local area from the home page
The resources here will help you reach the outcome: "I know what to expect and when with young adult's understanding, talking or communication."
Click the star icon
next to the items you want to save and view them in your pathway
Parent information, advice and resources - Worcestershire
The Worcestershire Speech and Language Therapy service website provides a comprehensive range of resources, advice and You Tube videos to help parents to support their child / young person at home.
Visit the website to find:
Information about speech, language and communication
Free resources you can download and use at home
Links to our You Tube channel where you will find demonstrations of activities you can do at home
Further information about the local team, where we work and what services we provide
Cost: Free
Universally Speaking 11-18
Universally Speaking is a series of booklets for anyone who works with children and young people. The booklets show where children and young people should be with their communication skills at any given age. You can use the booklets to find out whether the children and young people you work with are on the right track, what helps them learn to talk and listen and what to do if you have concerns about any of their communication abilities.
Cost: Free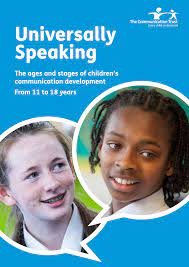 Speech and Language UK Talk about Talk Secondary
Talk about Talk is an evidenced targeted intervention that helps students aged 14 to 18 with poor communication skills to be ready for the workplace. The programme consists of a series of 13 fully planned one-hour lessons delivered by trained teaching or support staff.
Cost: Free

What's typical talk at secondary?
This poster is an easy reference for teachers to understand young people's speech and language development from 11-18 years and supports them in identifying children who may have speech, language and communication needs.
Cost: Free
TCT Progression Tools Secondary
The Progression Tools are based on typical speech and language development and provide a way of tracking progression of these skills over time or following interventions. The Tools are not a diagnostic tool, however they do provide information to help decide whether children and young people would benefit from a targeted intervention or specialist assessment and support.
Cost: £
Don't Get Me Wrong
Information about identifying speech, language and communication needs including a checklist of 35 indicators helps to identify if a young adult may have difficulties with their understanding of spoken language, the meaning of their message, function or reason for communication including pragmatics and social communication. Use to support your understanding and assessment of a young adult's needs and share with parents and carers who are concerned. Download here: Don't Get Me Wrong
Cost: Free