How to make sure children and young people at risk of speech, language and communication needs are identified early and effectively
You haven't selected an area yet so you will only see core resources from across the UK. Select your local area from the home page
The resources here will help you reach the outcome: "I know how to make sure young children at risk adults at risk of speech, language and communication needs are identified early and effectively."
Click the star icon
next to the items you want to save and view them in your pathway
Parent information, advice and resources - Worcestershire
The Worcestershire Speech and Language Therapy service website provides a comprehensive range of resources, advice and You Tube videos to help parents to support their child / young person at home.
Visit the website to find:
Information about speech, language and communication
Free resources you can download and use at home
Links to our You Tube channel where you will find demonstrations of activities you can do at home
Further information about the local team, where we work and what services we provide
Cost: Free
Learning About New Words
This video focuses on learning new words and strategies to support young people in developing their vocabulary.
Cost: Free

Supporting Understanding
This video features six top tips to help a young person better understand what is being said to them.
It is part of a series that has been made to help parents and carers support young people (aged 11-18) with communication difficulties.
Cost: Free

TCT Building a Profile
This document has been designed to guide you in making a referral to speech and language services. Being aware of the different types of speech, language and communication needs (SLCN) will make it easier for you to describe the young person's difficulties accurately, enabling them to access the right support as quickly as possible.
Cost: Free
Universally Speaking 11-18
Universally Speaking is a series of booklets for anyone who works with children and young people. The booklets show where children and young people should be with their communication skills at any given age. You can use the booklets to find out whether the children and young people you work with are on the right track, what helps them learn to talk and listen and what to do if you have concerns about any of their communication abilities.
Cost: Free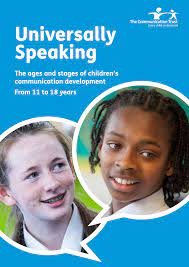 Speech and Language UK Talk for Work
Talk for Work (formerly called Talk about Talk Secondary) is an evidenced targeted intervention that helps students aged 14 to 18 with difficulties in talking and understanding words to be ready for the workplace. It can be used in both secondary schools and Further Education colleges.

The programme consists of a series of 13 fully planned one-hour lessons delivered by trained teaching or support staff.
Cost: Free

What's typical talk at secondary?
This poster is an easy reference for teachers to understand young people's speech and language development from 11-18 years and supports them in identifying children who may have speech, language and communication needs.
Cost: Free

RADLD
Developmental Language Disorder (DLD) is diagnosed when children and young people struggle with language, resulting in children who have difficulty understanding what people say to them, and struggle to articulate their ideas and feelings. This website provides you with information and resources to help identify and support children and young people with DLD. Information can also be shared with families and carers of children and young people with DLD.
Cost: Free